SharePoint made simple!
Simple but thoughtful project and team workplace for Office 365 and Microsoft Teams

Welcome to Seamless by AskMeWhy
Seamless combines selected SharePoint and Office 365 features to empower users to focus on content. Within seconds, employees can create standardised, user-friendly and mobile-enabled project spaces that already include the required toolset. They can also easily invite and authorise internal and external members to contribute to a project.
Seamless is an easy-to-use single-page application that is fully integrated in Microsoft SharePoint and Teams and designed to streamline routine tasks in SharePoint. Self-service features enable employees to create predefined workspaces with just one click, invite and authorise team members, and assign tools for a workspace. Enterprise-specific project workflows and on-premises systems such as CRM, ERP or industry solutions can easily be integrated in the interactive dashboard.
Easy onbaording and fast adoption for internal and external members
Getting your team on board is as simple as sending an email. Getting them hooked is as simple as letting them use it.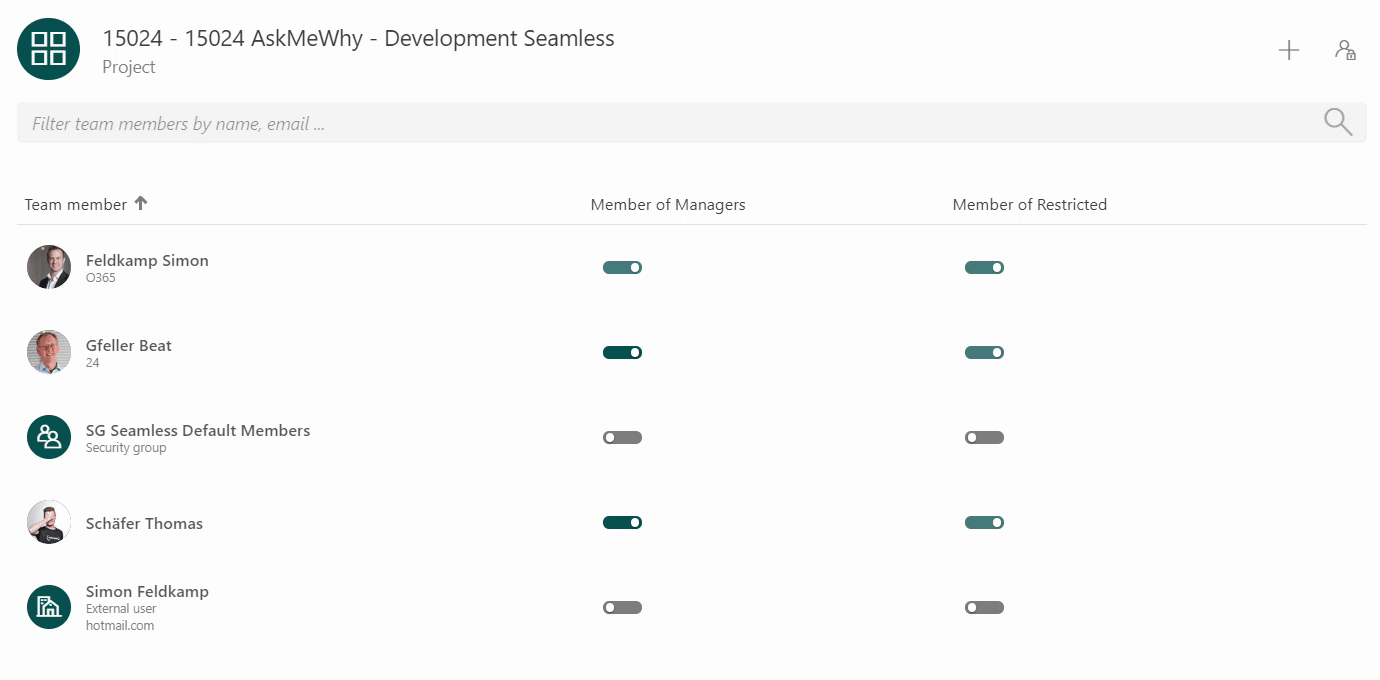 Keep your projects and teams organized in one place!
Add the tools your teams needs to keep organized, focused and on track to efficiently complet projects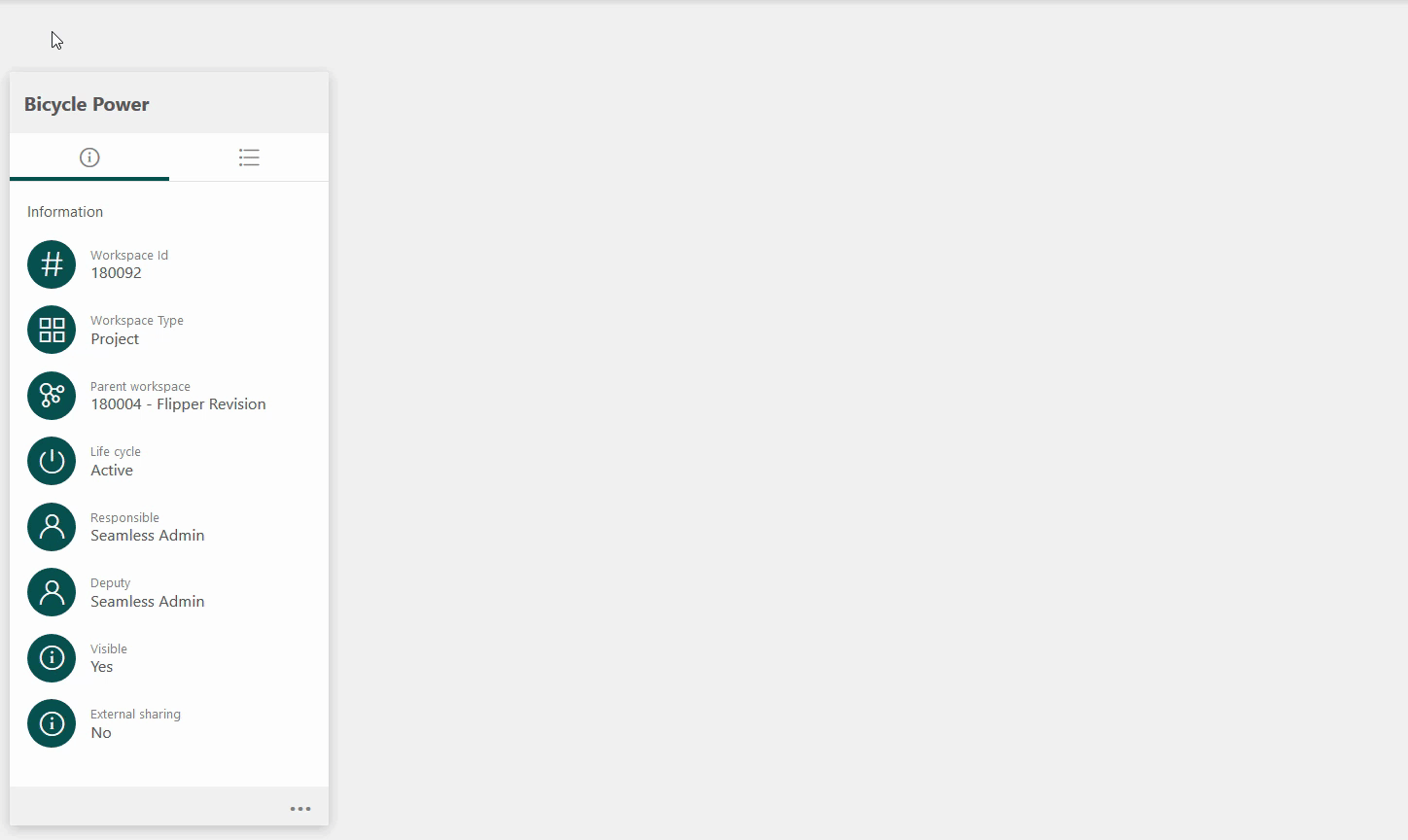 Plan, organize and track in one visual, collaborative space
It's simple. At a glance, members can see the entire plan, statuses, and all the details.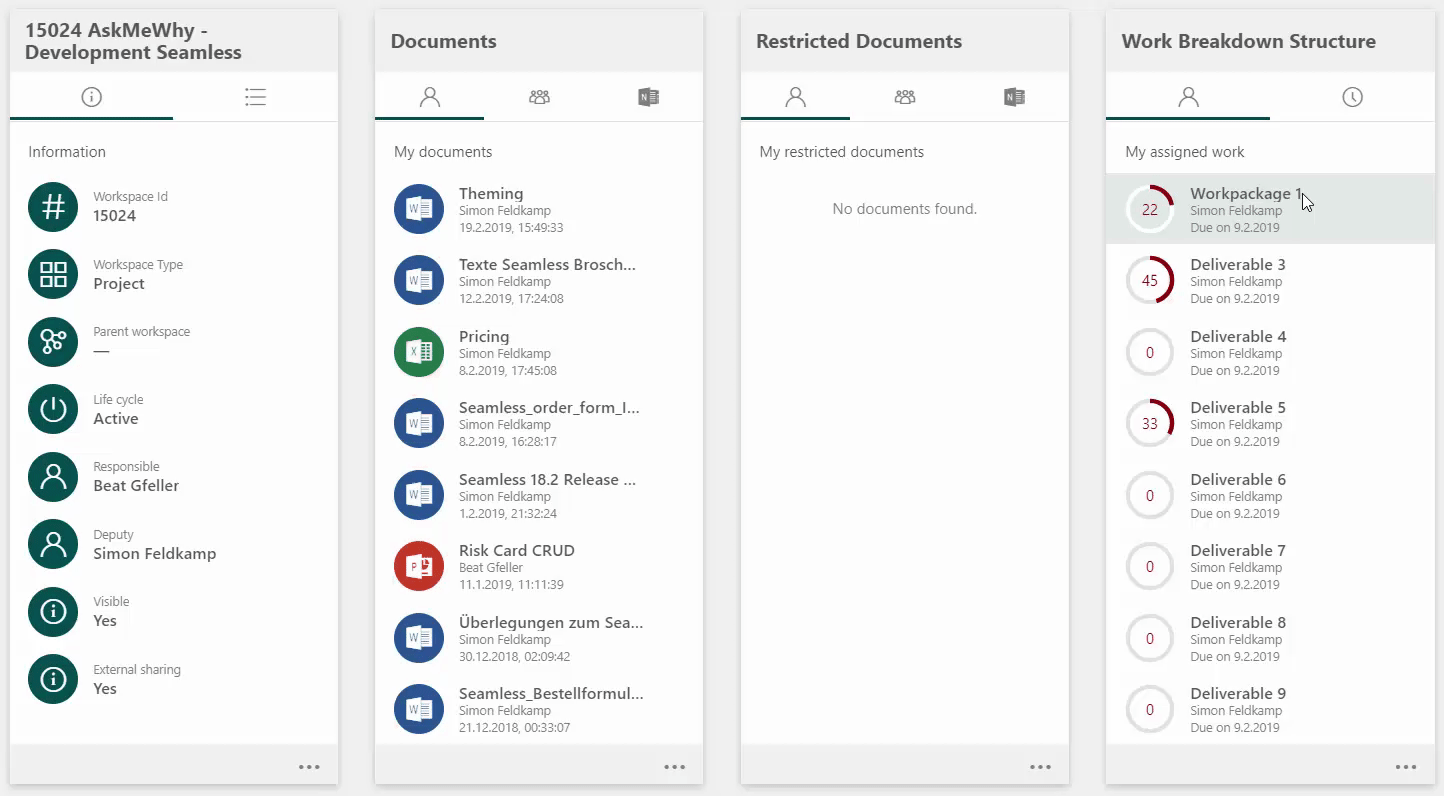 More benefits of Seamless 
Secure collaboration with external parties
Those responsible for a project space decide independently whether external partners can participate in the project, load it directly and control their access rights.
Integration of ERP, CRM and industry solutions
Whether project master data, addresses, references, final costing, templates, archives or DMS. Your legacy systems remains the master and Seamless adds the advanced capabilities of Office 365 and SharePoint.
Project Planning
Due to its limitations, Microsoft Planner is particularly suitable for planning simple projects in small teams. Seamless Projects supports the planning of demanding, long-term projects with many participants and also the interaction with MS Projects.
Search
The search experience in Seamless was developed according to the concepts of leading search engine providers such as Google, is intuitive and delivers relevant search results.
Multilanguage
Seamless is a language talent and speaks English, German, French, Italian, Spanish, Portuguese.
Configuration
The global settings of Seamless and also the settings at the work and project rooms are done by means of a self-explanatory web interface.
Self-Service
Self-service is the idea behind Seamless. Project spaces are made available in just a few clicks within a short space of time and «Attention, Ready, Go!», The content of the work can begin.
Individual tools
Project managers decide for their project which tools are available to the project team and how they are used.
Your processes
Seamless adapts to your project workflows. It does not matter if you edit projects classically, agile, Hermes or your own method.
Project Life-Cycle
Seamless workspaces cover the entire Life-Cycle project, from the offer phase through the processing to the project completion and archiving.
Organizational Structure
With Seamless, workspaces can be easily connected to depict relationships and hierarchies, such as Main project, subproject, follow-up project, location, area, team.
Mobile Apps
The way in which and how projects are handled varies. Seamless is mobile responsive, usable on all devices and even integrated in the Office 365 apps for iPhone and Android.

Discover more AskMeWhy Solutions
Corporate data in SharePoint
Seamless Drive
Replace your file service through SharePoint. Seamless Drive is an easy-to-use, scalable Software-as-a-Service that securely stores your corporate data in your existing structures, provides full control over shared content, simplifies access control for both internal and external users, and increases SharePoint acceptance.
GIS in SharePoint
WebPoint
Many object data have a geographical location. This is easy to capture is the goal of WebPoint. With WebPoint, a tool is available that allows you to quickly model a new topic in SharePoint Online. WebPoint has a connector that connects information in SharePoint Online and GIS Services (MapFish).